Argyle Booklet & Binding Services
Present your documents in the best professional look possible with DFW Printing's top-notch Argyle binding services!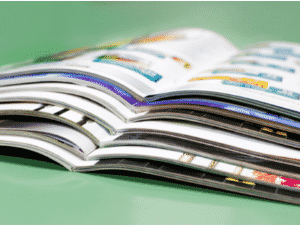 DFW Printing is a leading provider of design, printing, and binding services for business use.
We can hard bind or saddle-stitch any type of document, from short catalogs to hundred-page reports. The materials we use are high-quality, producing highly durable products through our experts' professional workmanship.
If you need to bind documents for personal use, we can accommodate you.
Just tell us what you need, and we'll show you all the options you can choose from with guidance from our experts' recommendations.
Call DFW Printing at (817) 533-4872 for your Free Consultation with a Argyle Binding Services expert!
Vast Options of Binding Styles
DFW Printing is here to provide a complete set of Argyle binding services perfect for every unique style and brand that you may have. Whatever material your print is, we can bind it perfectly using any binding type you want. Here are a few examples:
Saddle-Stitched
If you need to bind short documents like catalogs, calendars, and booklets, saddle-stitching is an excellent option. It is a popularly affordable choice for small to medium-scale businesses.
This binding type involves two or more industry staples to join the pages (ideally up to 100 only) together. Even if you open the document in the middle or the last page, saddle-stitching can make the pages stay flat. Furthermore, you can decide for yourself where the staples will be located.
Spiral Bound and Wire-O Bound
Spiral binding and wire-o binding are perhaps the most popular types of binding out there. Reading documents that are spiral bound will not let you worry about any form of tension from the pages to close, as the structure of the technique allows it to stay flat properly.
In spiral binding, we use a plastic coil to loop through punched holes along one side of the pages and seal them together. For a customized look, we can offer various thickness levels and levels of the spiral coil for you to choose from.
On the other hand, wire-o binding uses a different material for the coil, although it is essentially similar to spiral binding. Wire-o uses a more durable material called a wire coil, which is also available in various sizes and colors in our shop.
Perfect Binding
For large documents and books, perfect binding is the recommended option. It involves using a wrap-around cover that envelopes the pages. One side of the pages is glued together to seal them shut.
Available in a wide variety of customization options, perfect binding can impress your stakeholders and customers, especially with our experts' recommended design options to truly bring out the best in your brand.
Stapled Books & Booklets
Stapling is simple, affordable, and recommended for really short documents such as booklets, newsletters, reports, flyers, and the like. We use industry-grade staplers to seal a few pages together, making a very low-cost yet quality binding product.
If the binding technique you're looking for is not on this short list, don't worry. We have a complete set of equipment to create any binding product, even the most customized options you can think of. You can trust that any product you order from us will be at its peak quality without having you spend a ton of money.
Full-Service Printing Company
DFW Printing is a leading provider of Argyle binding services. Customers have trusted us due to our in-house facilities, which gives us the capacity to offer industry-grade binding services and products in a quick turnaround time without costing too many resources.
And as a top-notch player in the print industry, we offer more than just binding services. From graphic design to large-scale printing, we provide a comprehensive range of services, all delivered at professional quality to help improve your business.
Here's a sneak peek at what we can do for you!
1. Graphic design
2. Black and white or colored printing
3. Digital Printing
4. Business cards
5. Envelopes and letterheads
6. Mailing services
7. Product brochures
8. Forms
9. Flyers
10. Postcards
11. Banners
12. Calendars
Whatever service you want, rest assured that we will deliver them at the highest quality that we can offer. Even if you request highly customized projects, we are here to give you what you need!
Free Consultation Today


Are you looking for affordable yet industry-quality Argyle, TX binding services? You've come to the right place. No matter how complicated or challenging your bookbinding project is, whether it involves binding hundreds of units or developing a really special cover design, we are here to help you boost your business.
From helping you develop your creative ideas to building your customized designs from scratch, DFW Printing is here to provide you with the best-quality Argyle binding services that you can get.
Call DFW Printing today at (817) 533-4872 for your Free Consultation with a Argyle Binding Services expert!